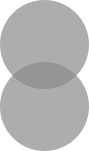 I changed my hair this weekend!  There's something about Spring that always makes me want to try new things with my hair.
It was a longggg 4-step process of stripping out the red, dying the top, bleaching the bottom, and dying the bottom.  It took me 3 days to complete, and I'm really happy with how it turned out.  I was going for a dip dyed/ombre look.  It's a nice break from the red, and I like that I can change the color of the bottom pretty easily (right now it's a lavender, pink, purple, periwinkle color).  I was wanting the top to be a bit lighter than it turned out, but hopefully it will lighten up over the coming days.
Have you ever dyed your hair an unnatural color?  What was it?!