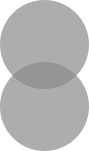 Green isn't a favorite color of mine to wear, and neither is getting pinched for not wearing it.  Let's allow for two official colors for St. Patty's Day – green….& lavender.  They compliment each other don't they?  And lavender is just so much prettier.  Oh and please be prepared – if you pinch me for not wearing green today, you may get a smack in return.
Happy St. Patrick's Day!  Kiss kiss, pinch pinch.
P.S.  New to me/Vintage lavender blouse – $.49 at the thrift.  They labeled it as "women's sleepwear", so I'm trying to rest in it as much as possible.