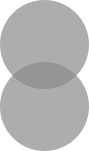 I am hitting my Christmas projects hard this week and decided to make 2 pairs of pants/leggings for my daughters.  Originally I was going to make them for Christmas gifts, but I wanted to go ahead and show you how they look when they wear them, and man-oh-man – cuteness.
I wanted the pants to be skinny/leggings/slim fit, so I used a pair of basic black leggings as the "pattern" for both of them.  If you want wide leg or flared pants, make sure to use pants that are in the shape you want.  You can make these in lots of sizes from newborn up, and even shorts for summer!  And yes, I have made myself leggings using this same technique, but with regular fabric.   Play around and see what works for you:)
The supplies are pretty basic :
3/4″ elastic
sharp scissors
t-shirt (Use a shirt that is over-sized and long so that you have plenty of fabric – don't be afraid of patterns!)
thread (in any color you like)
trusty sewing machine
*You may also need a tape measure and straight pins if you like things to be exact, but those are completely optional in my opinion:)
Step 1:  Take a pair of pants that fit your child and fold them in half.  Lay the folded pants on the left, front of the shirt, and cut all the way around them (don't cut the pattern pants, just follow the shape) leaving 1/2″ seam allowance and 2″ seam allowance at the top.  *I wanted extra long pants, so I left more room at the bottom.  You want the bottom of the shirt to be the bottom of your pant legs so that you can skip hemming (yay!).
Step 2:  Repeat step 1 on the right side of the shirt.  You now will have 4 pieces of fabric.  Take the first 2 pieces and put them right sides together.  Zigzag stitch along the "outer" side of the pants (not the side with the "bump") from top to bottom.  You will do this twice.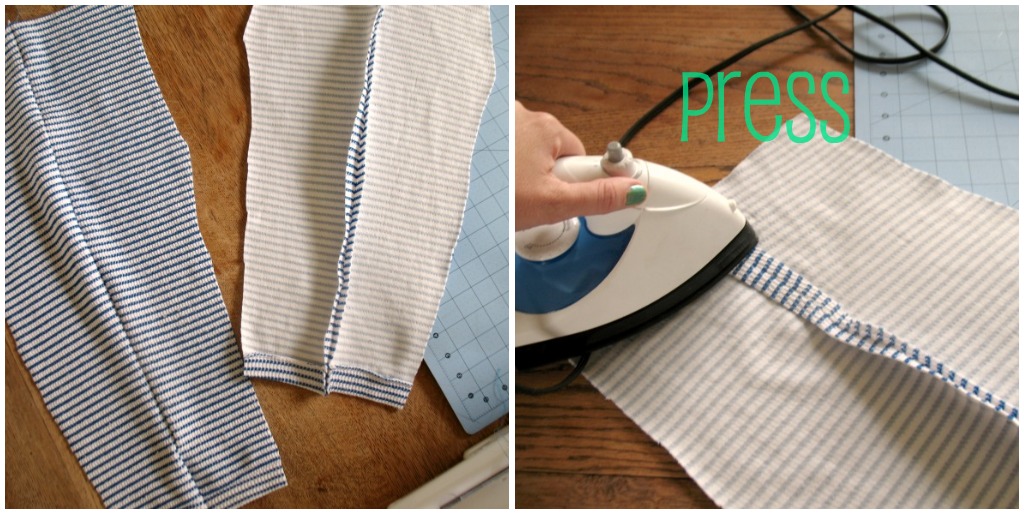 You now have 2 pieces of fabric, and should go ahead and press your seams open.
Step 3:  After pressing, lay your 2 pieces right sides together, and zigzag stitch from the top of the pants to the crotch (or "bumps") on both sides.  Now open your pants so that the parts with the "bumps" are now the front and back of the pants.  You should now be able to see the shape of your pants!

Step 4:  Zigzag stitch from the crotch to the bottom of the legs on both sides.  Don't forget to press open your seams and clip threads as you go (I am totally saying this to myself!).
Step 5:  Fold down the top of the pants into a "tube" and press.  Stitch all the way around the bottom of the tube, but leave a small opening  to insert the elastic.  Push the elastic through the tube.  Use a safety pin in the elastic to make this easier.  Stitch the elastic together when you get it pulled through, and then stitch your opening closed.  Turn your pants right side out, and you're…
Easy right!?  And the best part is, they only cost me about $1.00 each to make, so it is a total bargain, and a perfect gift option when money is tight or even if it's not!  My girls modeled the pants, and were so cute, giving me their best smiles and "looks".
I made a couple hair bows using scraps from the shirts.  I left the edges raw, and didn't back them with anything, so they are completely imperfect, but I am okay with that.  They still look adorable…right?  :)
If you try making pants like these, send me a photo –  I would love to see!
What handmade gifts are you making this year?