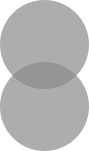 Hi!  Are you ready for a big-giant-photo-loaded post?  Here we go:)
Stormie Dae and I (along with our sisters, Tara and Jovan, and our Mom) co-hosted a Bride's Party (aka bridal shower) for our sister Tredessa last week.  Tredessa is getting married next month, and we are SO excited for her!  She and her future husband have opted to have an intimate wedding with their family and closest friends, and we wanted to keep that same feel for the Bride's Party.  Since I am her Matron of Honor (yay!!), it was up to me to head the party up, which I totally loved doing!  I chose a "white" theme, and we played that up…pretty big:)
Since we have SO many photos of the night, I thought I would split it into 2 posts – today I will show you the food/drinks that we did, and on Thursday I will talk about the decor elements.
Mom made these delicious cake pops!  I may or may not have had 4 of them…and a tummy ache because of it;)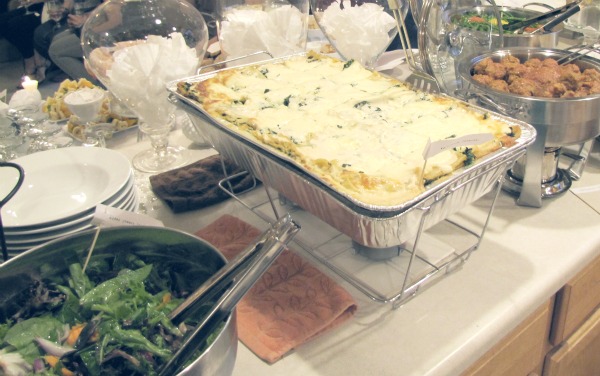 It might be hard to tell from the photos, but this vegetable lasagna was big.  HUGE.  We also had some yummy salad for the health nuts (made by Tara), and meatballs for the meat eaters.  We aim to please.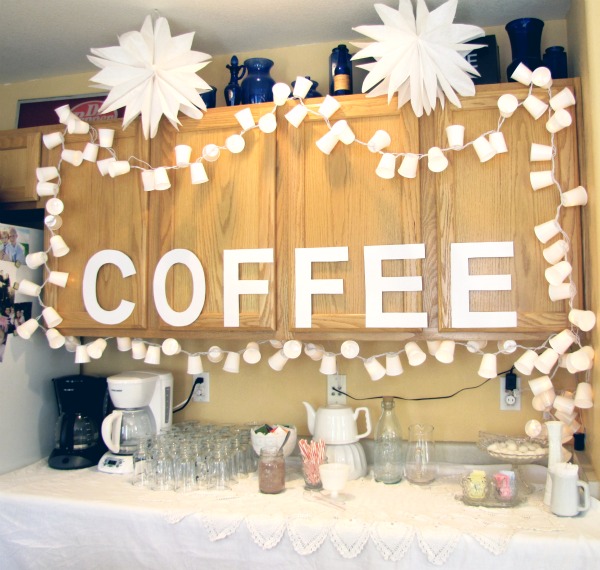 This of course, was my favorite part – the coffee bar.  Stormie and I were in charge of it, and we loaded it up with lots of confections that go well with coffee.  Peppermint sticks, vanilla cinnamon cream, regular cream, caramel syrup, and flower-shaped sugar cubes.
Cream cheese mints, Mexican wedding cakes, and fudge brownies with white chocolate.
Water, iced tea, lemonade, and white sherbet punch (LOVE all of these giant glass containers!).
I love how large our "coffee" sign is.  And I think it's funny that we went all out with the coffee bar because Tredessa doesn't even drink coffee…BUT, her fiance Ryan does, so we will just pretend that is why.
Green beans from my Mom's garden, and Stormie's famous foccachia bread – yum!
Hot chocolate with marshmallows and hot tea for the non-coffee drinkers.
Pumpkin cream cheese muffins.  I have a slight addiction to them.
See?  Flower-shaped sugar cubes made by Stormie!
On top of all this, we also made spinach artichoke dip (Mom's specialty), fresh fruit and caramel sauce (by Jovan), cheesecake, tomato-basil skewers, and shrimp cocktail.
Lots of food, but more importantly, there was lots of love at the party.  It was such a fun night, and I can't wait to show you more photos on Thursday!
…………………………………………………….
I told you a few weeks ago about a new musical venture that my husband Tristan was working on, and I am SO excited to tell you that they are releasing their first single today!  The band is The Thought Process, and the song is called Movin'.  It. is. amazing.  I have listened to it so much, that now my kids have memorized the words.  Tristan is an incredible drummer.  So proud of him:)
You can listen to the song (and buy it!) here & here.  Go right now and listen – I know you'll love it!