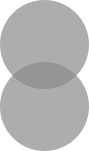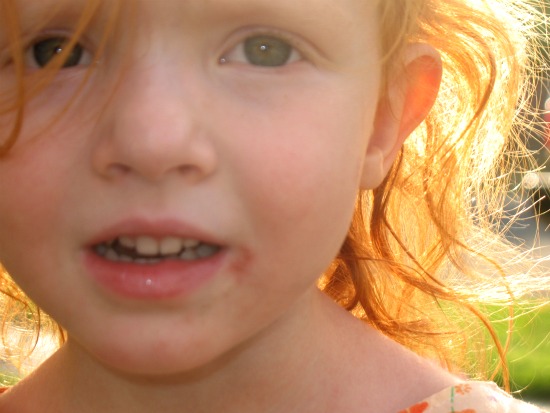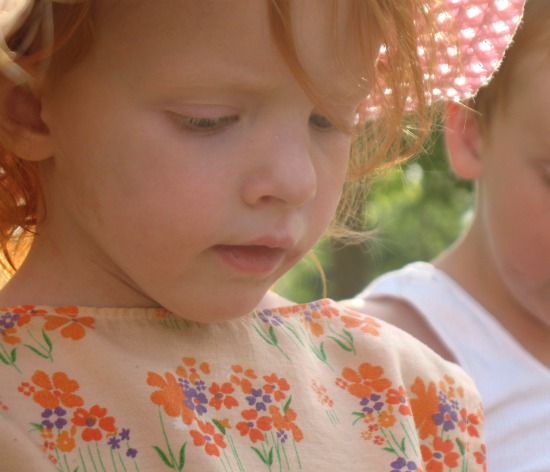 I came across these photos of Gemma from last summer and my heart melted.  My baby is going to turn 4 in a few weeks….FOUR.  How could this have happened?  Wasn't I just pregnant a second ago?  Whenever I think of my kids getting older, I always get the cliched feelings of nostalgia and regret.  "Why don't I spend more time just talking to them?"  "Remember when they were born? – so tiny!"  "They will be gone before we know it."  Pictures of high school graduations and sending them off to college flutter through my head, and I tell myself that everything will turn out fine….but how do I really know?
Having small children at home is a special time (cheesy-sounding, but true).  I know that there will come a day when Gemma doesn't run to me with arms open wide and give me the tightest hug that her strength allows.  I know that Guini will not always want to snuggle close to me while watching Tangled, and smile up at me with freckled cheeks.  I know that one day Gavin won't ask me to chaperone his class field trip to the local berry farm, and beam with pride when I visit his class at school.
Now is the time to be close to my children.  Now is the time to hug them tightly and choose my words carefully.  Now is the time to sit on the floor and play Uno with them (even when it is slow and played incorrectly).  Now is the time to spend less time gazing into my laptop, and spend more time gazing into their sweet faces.
Reminder to myself – don't wait for tomorrow.
Love,
Stephanie May*