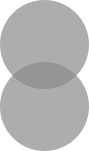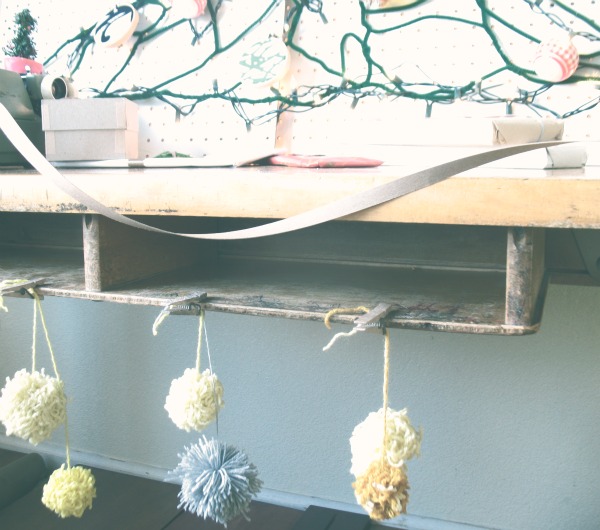 Oh Christmas Tree, Oh Christmas Tree, how lovely are your pipe cleaners.  Yup, that's right – today, I am showing you my Christmas tree (which I just finally finished)!  Here's what happened:  I set up my artificial, 7 ft Blue Spruce tree the week of Thanksgiving like I always do.  It sat there.  It sat there some more.  Each morning I would come down the stairs and there it would be.  Just sitting, taking up (lots of) space, and doing absolutely nothing for my Christmas spirit.  I finally tried putting lights and ornaments on it, and I was even more repulsed.  I snapped and decided to take it down, and I immeadiately felt giddy.  The empty corner was suddenly transformed into a blank canvas that was waiting.  Waiting for what?  Well, I didn't figure that out until a few nights ago: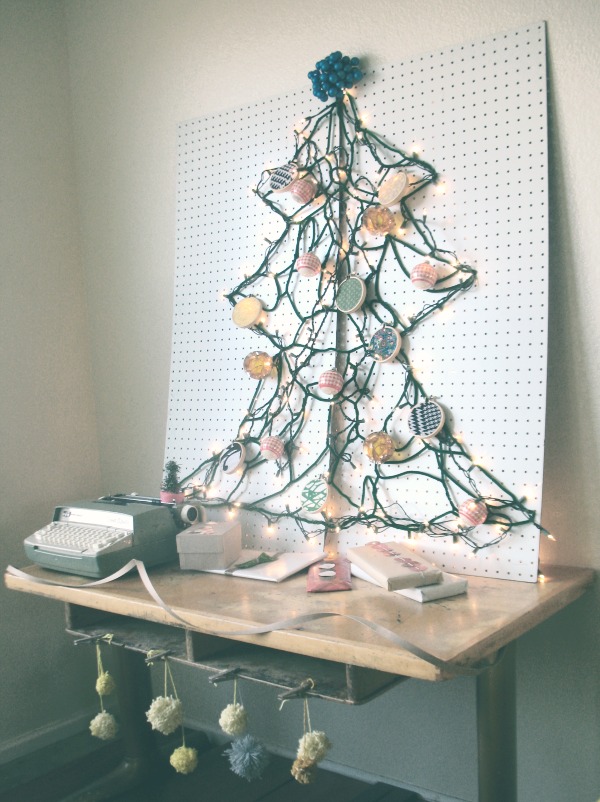 Ta-da!  I have been swooning over "alternative" Christmas tree ideas for weeks.  I'm definitely not saying that I will never have a traditional tree again – I'm sure that I will, but for 2010, this just happens to be perfect for me – and you know what?  My kids and Tristan love it too!  Win-win-win-win-win.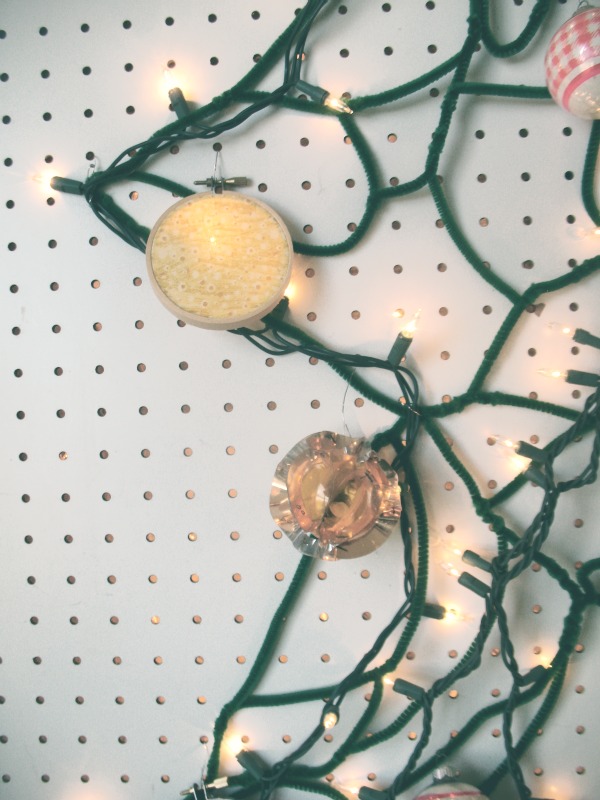 The tree shape itself is made out of green pipe cleaners that are wired to 2 sheets of pegboard.  I added lights, vintage ornaments and small embroidery hoops that are filled with pretty fabrics.  It was simple to put up, and I love that it lays "flat" against the wall and doesn't take up a bunch of space.  The tree is sitting on a vintage school desk that my Dad gave me, and I am excited to place smaller gifts on top of the desk, and the larger ones underneath.  Levels of gifts?  Eeeeeek!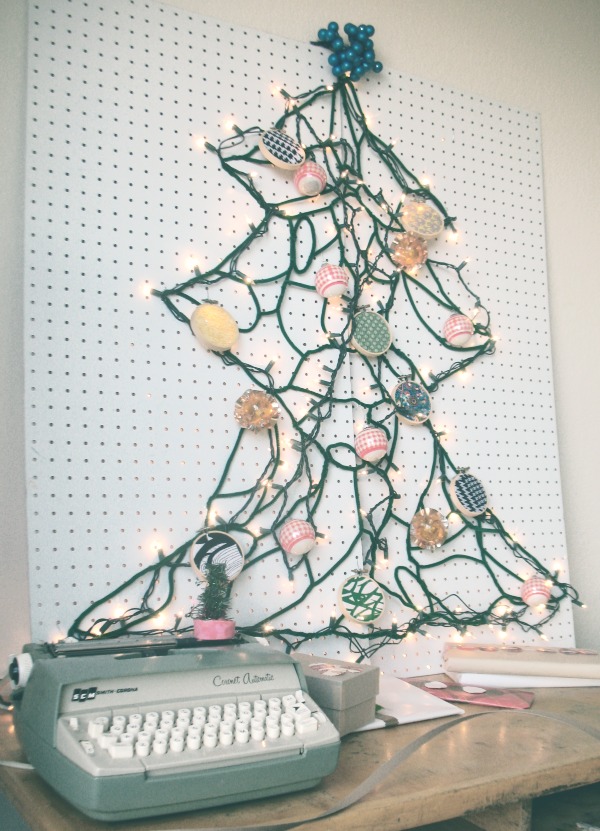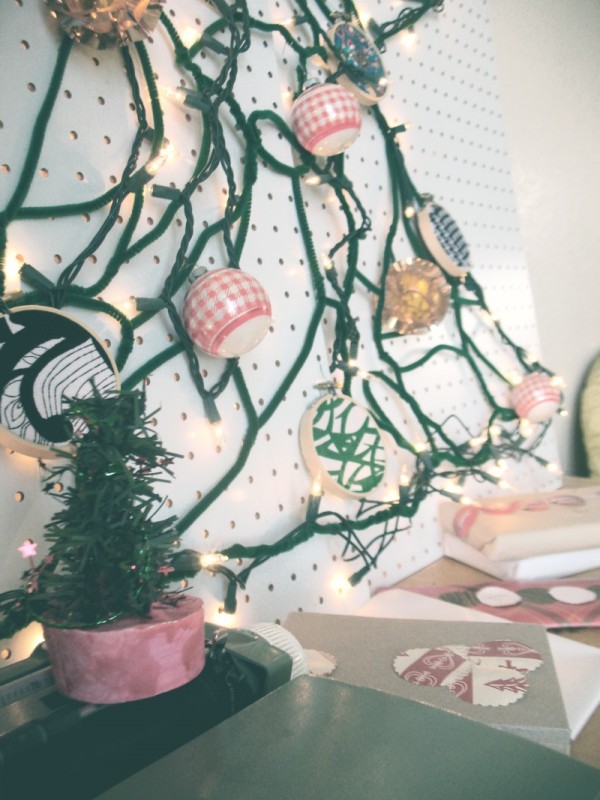 What do you think?  Is it completely crazy?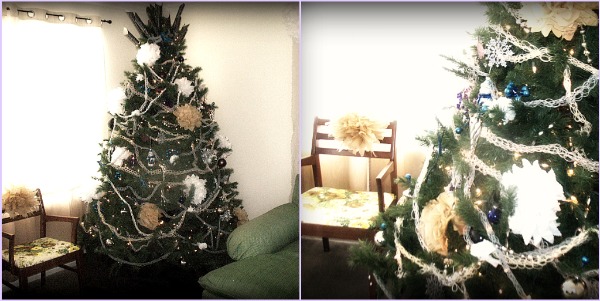 This is a photo of my Anthropologie-inspired tree from last year.  I still like it, but hope to do something new every year, and never replicate.  I hope hope hope!
Anyway, I am definitely more in the Christmas spirit since I got my new tree done ♥  Now if I could finish up my shopping and wrapping…  What about you?  Are you all done and ready for Christmas?  Only 9 days left, but a lot can be done in 9 days, and for me, some of my best work happens in the final hours (I don't know why that is?!).
On Tuesday, I am going to show you my gift wrappings and toppers so far, and also share one of my favorite Christmas recipes with you – merry, merry days:)
Love,
Stephanie May