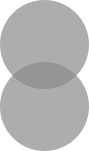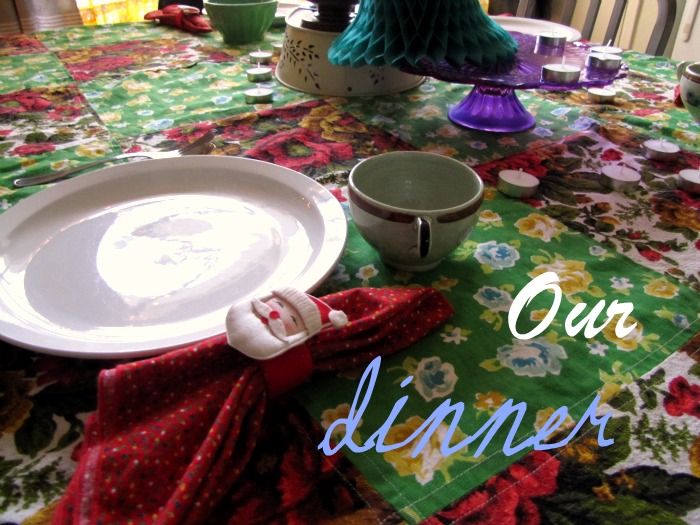 Hi people!  My family had our 2nd annual have-anything-we-want-that-is-yummy-dinner on Tuesday night.  It was so much fun, and very much needed in all of the chaos of Christmas week.  You can read about our 2009 dinner here.
I have to say that I am really loving this new tradition!  We chose to have the dinner with just Tristan and I and our 3 kids.  We had it a few days before Christmas and I think that it really builds anticipation for Christmas for all of us.  The kids were so excited all day for the dinner, they could hardly contain themselves!  There was much preperation going on in the kitchen during the day, and they kept asking when it was going to be time to eat, while bouncing up and down:)  Sometimes it was cute, and sometimes….not so much.  I also spent time making sure that the kitchen was festively decorated so that it wasn't just a regular night to us.  I hung up some honeycomb bells, and I am not taking them down – LOVE.
Tea lights, Anthropologie bowls, patterned table cloth, the rest of the decor was pretty simple.  I took these photos during the day, but the actual photos of dinner were, of course at night, so please forgive the dark lighting:)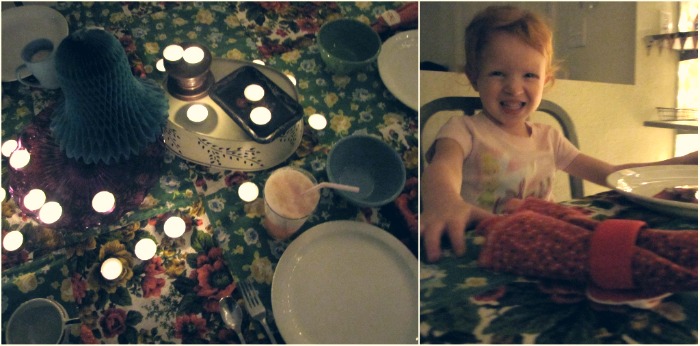 For dinner we had:  spinach artichoke dip, sweet potatoes with marshmallows, baked potato soup, steak, cauliflowerr steak, and fresh made crepes with fruit and cream cheese for dessert.  Oh, and we had sherbet punch to drink – yum!  The fun thing about this tradition, is that we get to choose foods that we don't have on a regular basis.  What is cauliflower steak you ask?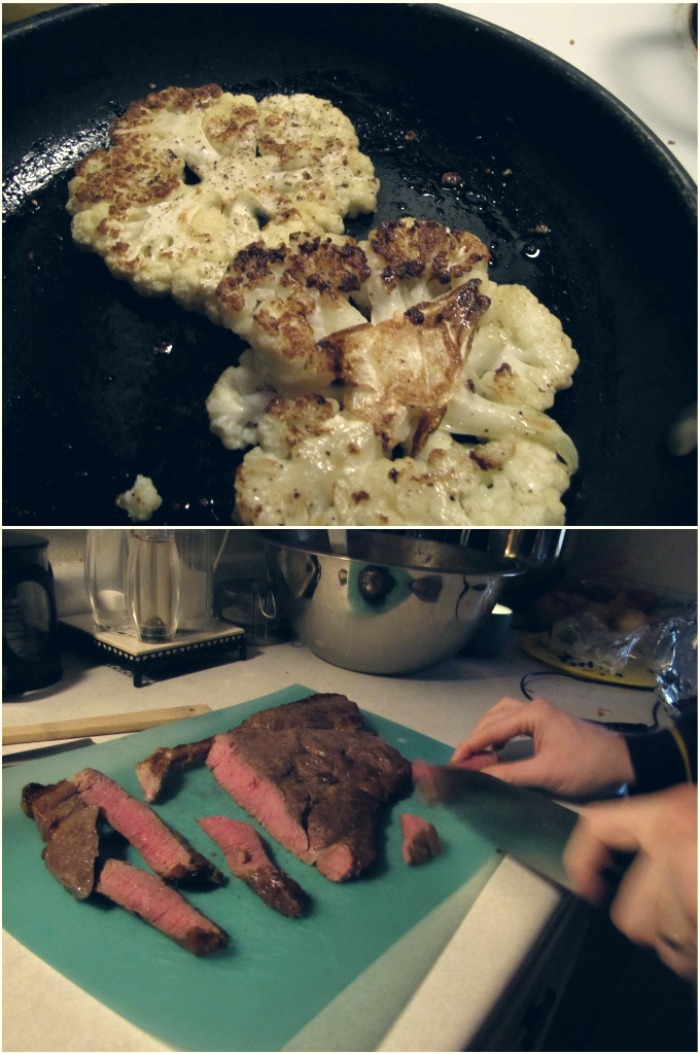 Cauliflower steak was my alternative to the top sirloin steak that Tristan made for himself and the kids.  I don't eat much red meat, and had read about cauliflower steak in a vegan cookbook, and thought that it sounded so good, so I tried it and really liked it!  I would definitely have it again and again and again.  Recipe here.
All of the food was SO yummy, and I ate way way way too much, but that's part of the fun I suppose:)

I cut Tristan's head off in both of these photos.  Darn.
So glad that we got to do this again – We sat around the table and felt happy to have amazing food and to be together.  I can't wait until next year!
_________________________________________
On Monday, the 5 of us went and took some photos for our Christmas card (that we would be "giving" to people via FaceBook and email).  We wanted to try something non-traditional, and since Tristan and I  just watched the 1st season of The Walking Dead, we had zombies on our minds (ha! – no pun intended)…
I absolutely LOVE how the card turned out – definitely off the wall, but undoubtedly "us"!
Did you send out Christmas cards this year?  What did you do for yours?
2 days left till Christmas!  Stormie Dae will be here tomorrow with a Christmas Eve post, and we will be on our regular schedule next week.  Thanks so much for reading and commenting on our posts!  Even when we are at our busiest, we NEVER get tired of hearing from you!  OH, and we have new items in our Etsy Shop – please take a look if you get a minute!
Merry Christmas to you!
Love,
Stephanie May