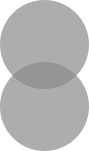 I hope you are ready for another huge-giant-photo-loaded-post!  On Tuesday we showed you photos of the food and drink at our sister's Bride's Party, and today (as promised) you will get to see the decorations.  Three things you need to know before I start this:  1.  The theme of the shower was white, white, white!  2.  Our family can't do anything on a small scale.  3. We are really really excited for our sister to get married.   Ok ready?  Let's go!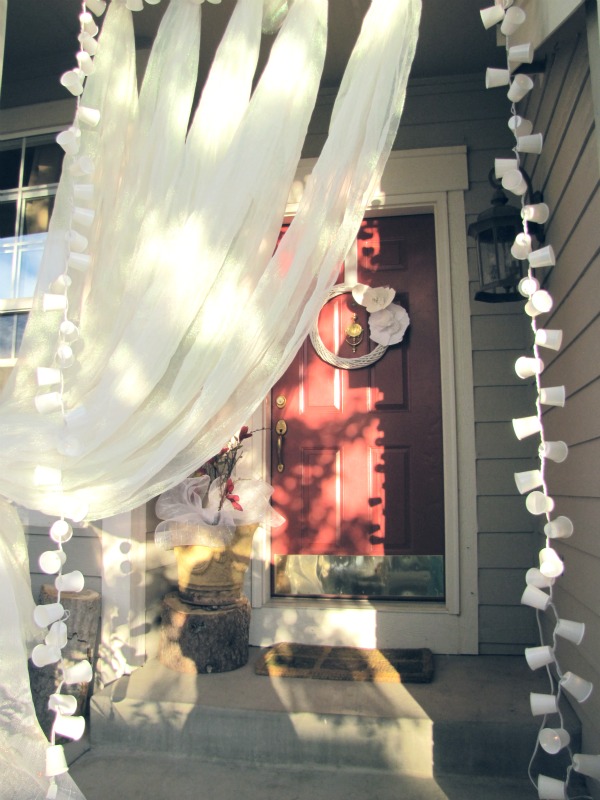 I got the inspiration to a have a white-themed party, and we went all out for it!  Our parent's were kind enough to let us use their house for the event, and we went about decorating every nook and cranny.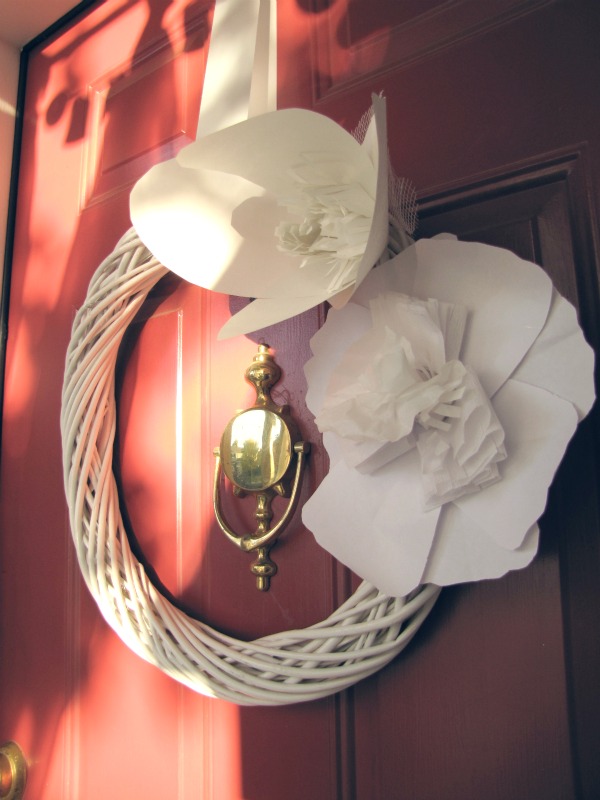 On the front porch we had shimmery fabric draped with "cup-lights" made by Stormie (they are little white plastic drinking cups!).  And of course, a white floral wreath on the front door – a must.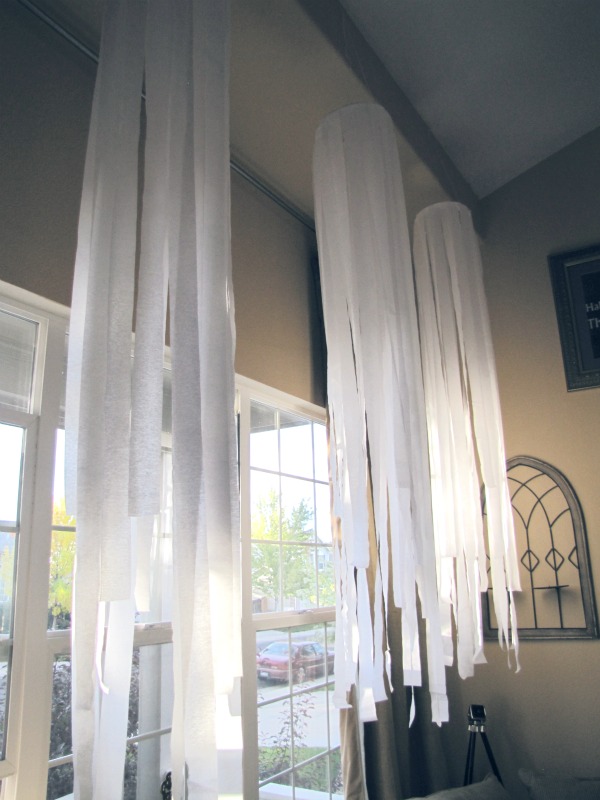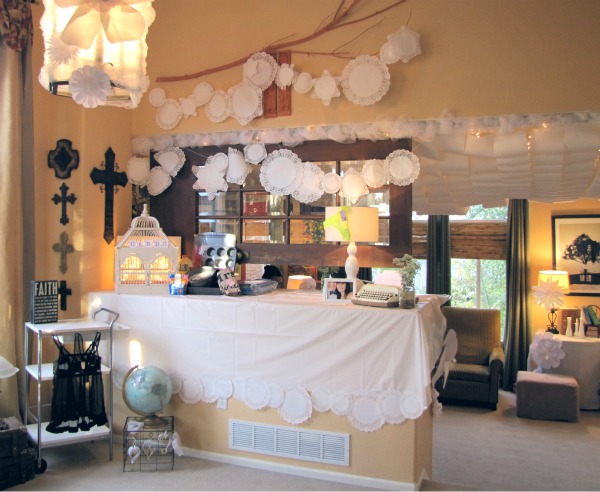 I asked my sister Tara to be in charge of the gift-table, and it turned out so cute!  She decorated it to look like a vintage desk, and filled it with a typewriter, globe, birdcage (for cards), and a white lamp.  She also made a sweet doily garland to hang above it, and streamer decor for the front window!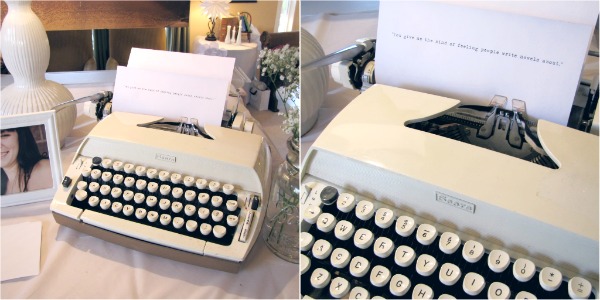 "You give me the kind of feeling people write novels about."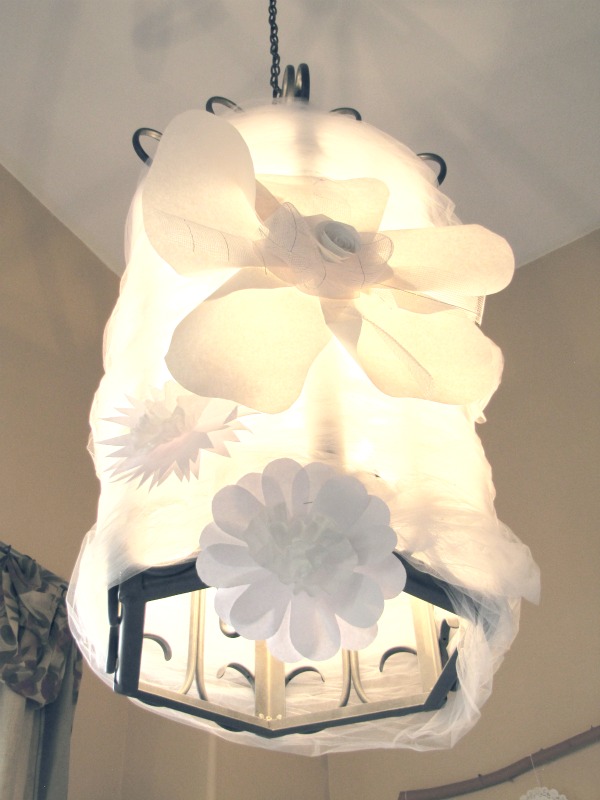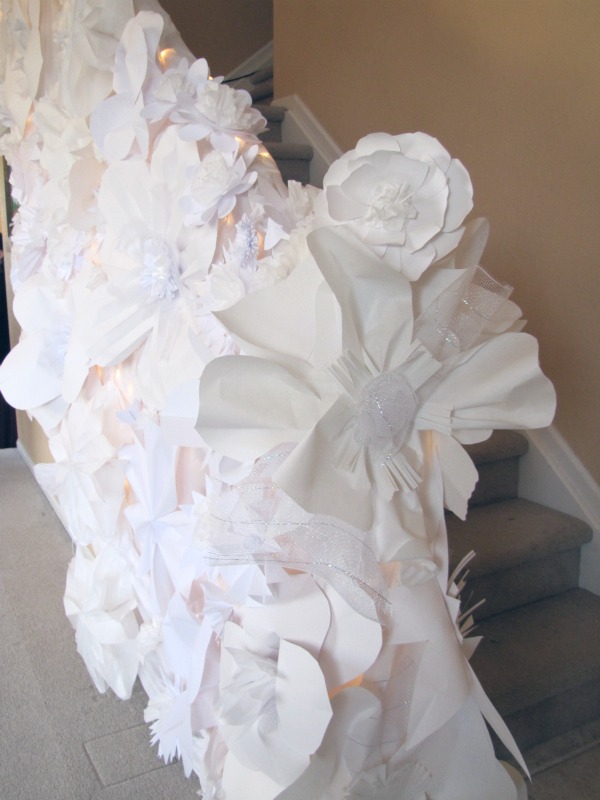 The next big element was flowers.  Tons and tons of them.  Our mom really went to town making these out of paper, and she did a beautiful job of draping them over the bannister.  Seriously, it was GORGEOUS!  We did however have to gently force her to stop making them.  Once she got going, she couldn't stop! :)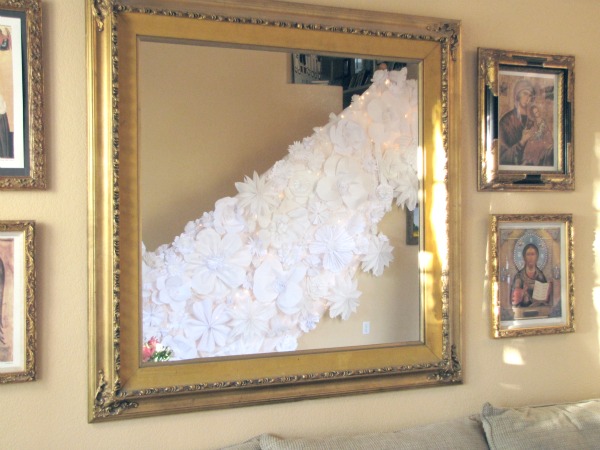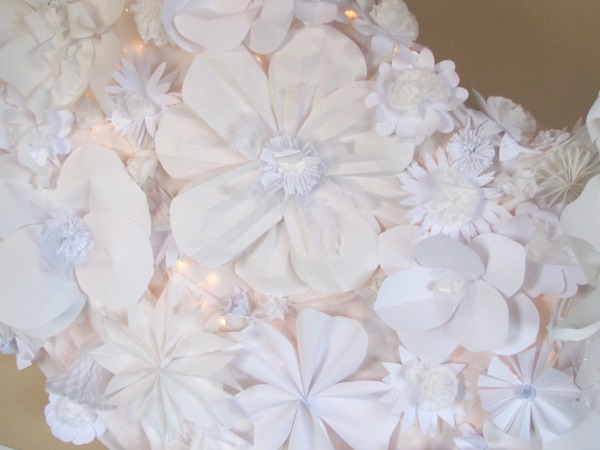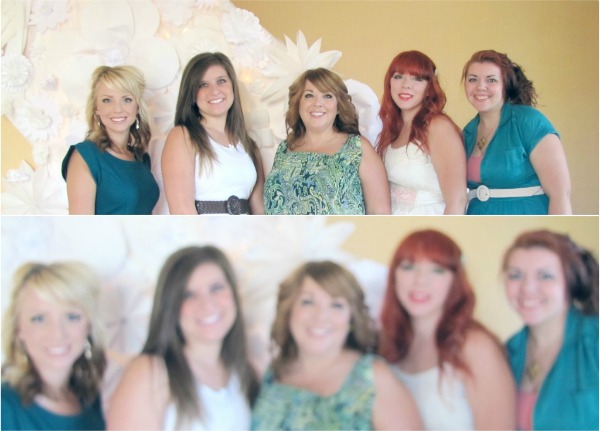 The hosts!  Tara (oldest sister), Jovan (married to our brother), mom, me & Stormie Dae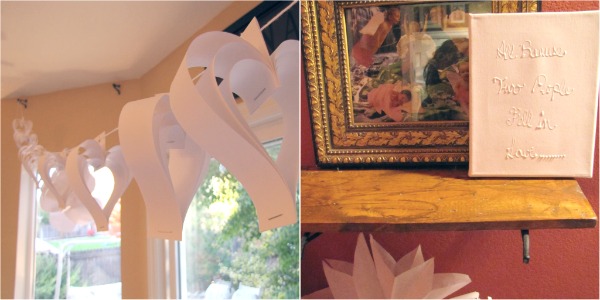 Stormie made an adorable paper heart garland that we strung across the back door.  Jovan made some white on white art – so cute!  She also made a white floral mobile, but sadly, I couldn't find a photo of it!  It was breathtaking.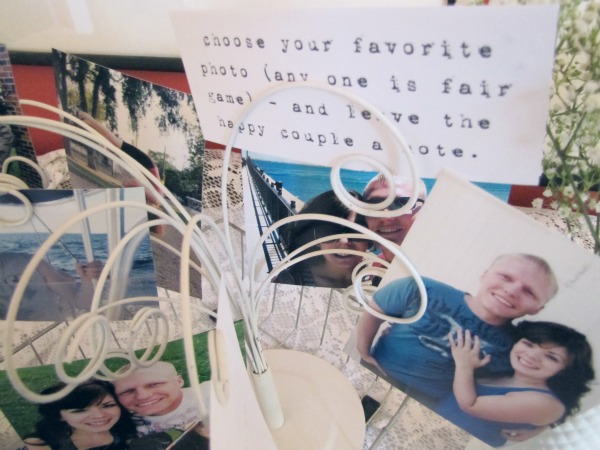 Tredessa (the bride) had requested that no games be played at the party (hooray!), but we did have photos of her and her fiance that people could write advice, congratualtions, ect… on the back.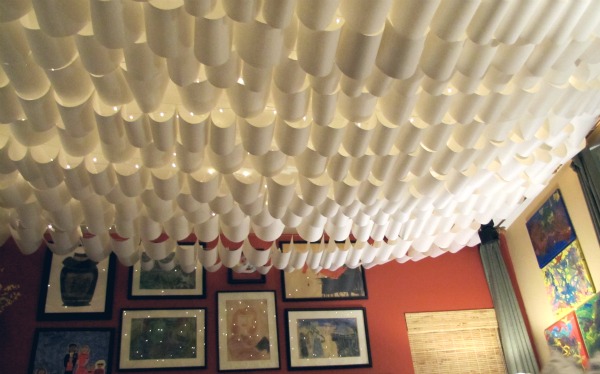 This part of the decor was my labor of love/hate.  I came up with an idea (in my head) to have a white "ruffled" paper ceiling that was back-lit by Christmas lights.  Even though I LOVED how it turned out, I will never attempt it on such a large scale again.  440 sheets of legal size copy paper, a hole punch, and yarn.  The whole thing only cost me $1.50 to make, but it took about 6 hours to create it.  Whew.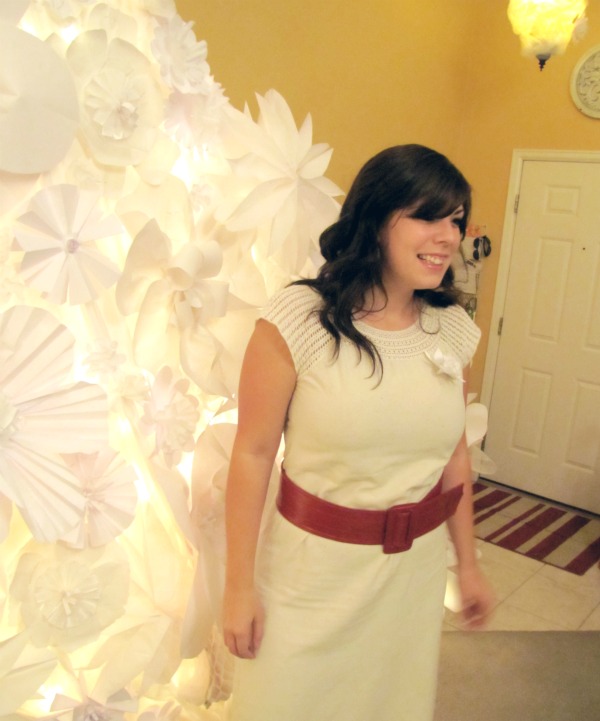 The guest of honor!  Every bride needs a flower wall to stand in front of…don't ya think?  She looks gorgeous!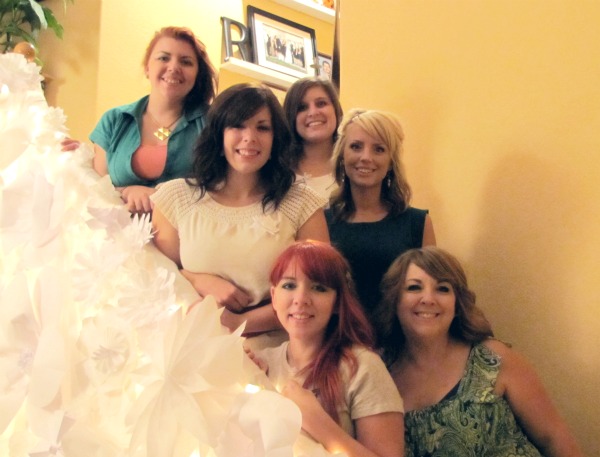 Mom, thank you so much for all of your hard work!  You made 90% of the food, cleaned, made paper flowers like there was no tomorrow, and infused your great style into so much of what the party turned out to be.
Tara, thank you for heading up the gift table at the last minute and for being so willing to help with/try so many of the decorations!  I loved how the gift table turned out!
Jovan, your decorations were beautiful!  Thank you for jumping in to lend a hand to me at any given moment!
Stormie, I really can't imagine doing an event without you!  You were a photographer, decorations creator, bread maker, coffee bar designer, food label artist, and videographer.  Is there anything that you can't do?  :)
And of course, Tredessa, thanks for finding Ryan and falling in love so that we could throw this amazing party for you!  I hope that you know how much we all love you and wanted it to be a night that you would never forget.
*There are 2 more people who need to be mentioned because they helped so much and weren't even invited:
Thanks Dad for all of your help with the ceiling, lights, cleaning, climbing ladders, and searching for our supplies!  You are always such a great help to us all!
And thank you to my husband Tristan – you saw that I was going to have a stress-induced meltdown when the ceiling was taking longer than expected, and you volunteered yourself to help me get it done.  Thank you SO much – I literally could not have done it without you!
I love you all!
And that concludes my longest post ever.  Hope you liked it:)