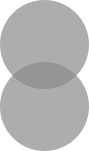 I told you that Tristan and I both did The Whole 30 (a strict form of the Paleo diet) this summer and we had such a great experience with it.  We both lost weight, gained energy, and felt so great, that we decided to continue eating the Paleo diet after the initial 30 days.  I am happy to tell you (and a little in disbelief) that we have stuck with the eating plan since June, and have no current plans to stop eating Paleo!  To be honest, I always get nervous talking about this kind of stuff on my blog, because it's just very personal.  I think I get afraid that people will think that I'm bragging or trying to make other people feel bad if they aren't doing what I'm doing.  Not sure why I feel that way, but I know that I need to get over it!  I am really proud of us and really can't believe that we have been able to stay committed to healthy eating for so long.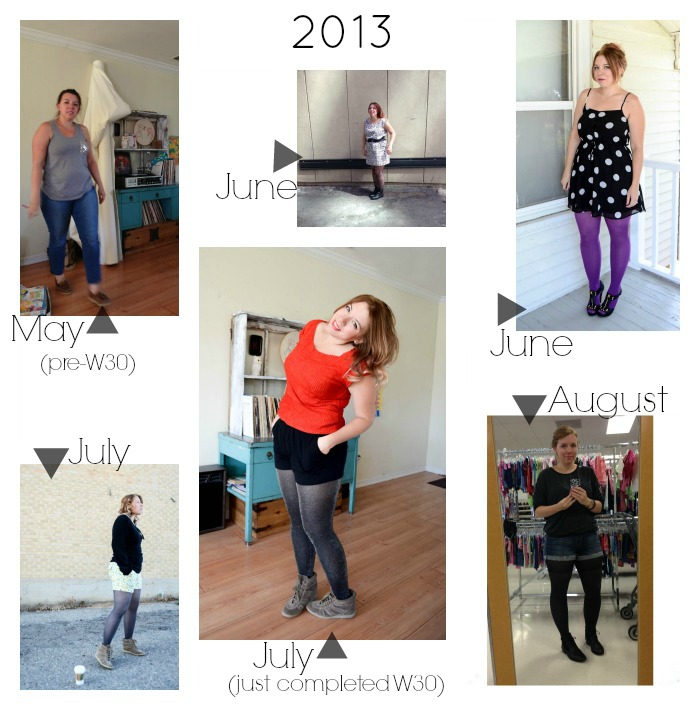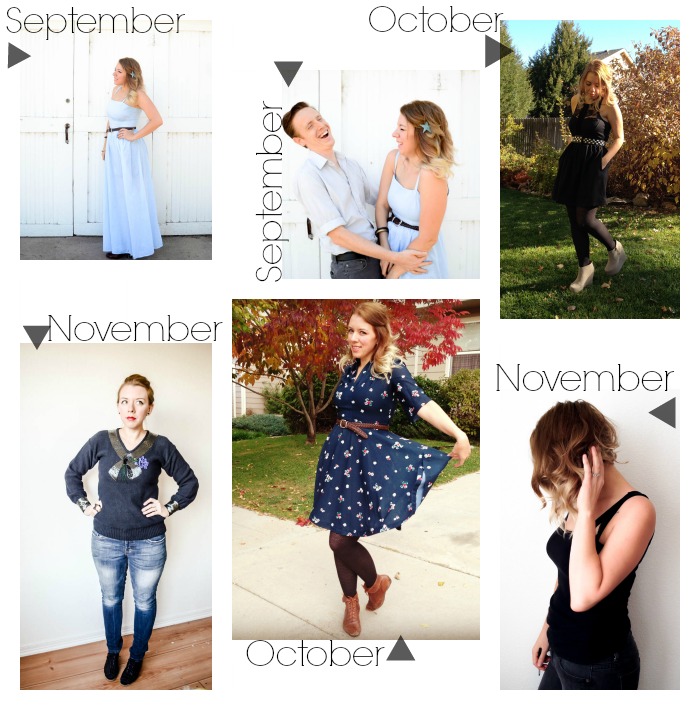 I put together this visual timeline of these past 5.5 months.  The first photo taken in May was before we started eating Paleo.  I still can't believe that that is how I looked not that long ago!  I lost a little over 13 lbs in the first 30 days, and have lost between 6-8 lbs per month since then.
And I've lost a total of 47 lbs since June 4th.
Yeah.  It's pretty hard to believe – forty-seven.  Such a huge number and one that I've never come close to with weight loss before.  We get asked a LOT of questions about Paleo and The Whole 30.  I mean, A LOT.  It's funny cause I think people get inspired by Tristan and I because we were so NOT the healthy-eating types before this.  It makes me wonder if people look at our success and think, "well if they can do it, so can I!"  and to that I say, YES – that's exactly right!  If two people that ate pasta, rice, cheese, bread, cereal, butter, milk, ice cream, cookies, and donuts all the time can stop all of that and start eating healthy meats, fats, & tons of veggies – so. can. you.
Don't get me wrong – eating this way is not easy.  I give us FULL credit for doing it – there were days in the beginning that we wanted to quit and stuff our faces with every carb we could find.  But now, after 5.5 months, it has gotten SO much easier.  It's a habit now – our new lifestyle.
Our top advice if you are thinking of eating Paleo:
1).  Do an official Whole 30.  We really attribute our long term-success to starting out with The Whole 30.  Sure, you can just go straight into a regular Paleo diet, and a lot of people can have amazing success with that, but for us, the strictness of the W30 stripped our eating down to the bare basics. and taught us some major will power.  And when I say "do" the Whole 30, I mean DO THE WHOLE 30.  No cheats, No slips, No excuses, No variations, No exceptions – for 30 days straight.  The rules are there for a reason.
2).  Read "It Starts With Food".  This goes along with #1.  This is THE book written by the creators of The Whole 30 and explains everything that you need to know about it.  I read this book for 3 weeks before we started, and did tons of online research and studying as well.  It's really really important to understand the how's and why's BEFORE you start because it will keep you from cheating and making exceptions.  And if you don't have the money to buy the book right now, or you're unsure if you really want to do The W30, check the book out from your local library – that's what I did.
3).  Get food prepared before starting.  Gather recipes from websites and cookbooks, make sure that you have good pans, knives, cutting boards, ect… cause you are gonna be in the kitchen a lot.  Don't just randomly start one day with nothing in your fridge and pantry but processed food – plan ahead.  We learned this one the hard way – that first week was so tiring and we had to cook every meal individually because we didn't plan ahead.  Write the starting day on your calendar and go grocery shopping and start the cooking process before your starting day!  Trust us – it will make it SO much easier on you that first week!
4).  Do it with a partner.  Do The Whole 30 with someone if at all possible.  Having Tristan do this with me has been SO wonderful!  It's important to have an accountability partner – someone who can help you through the tough days and weak spots.  A spouse, sibling, friend, parent, co-worker, or neighbor could all be great options.  If you can't find anyone that will do it with you, there are tons of online forums and support systems with experienced people to answer your questions and encourage you.
I'm working on a follow-up post with some questions that we get asked on a regular basis (an FAQ list if you will) that I will be posting next week, so if YOU have any questions, feel free to ask them in the comments:)
I just want to say thank you SO much for all of the compliments, nice comments, hugs, exclamations of joy, and words of affirmation that all of our friends, family, and online community have been giving us.  You don't know what it means to me to hear that encouragement, and I definitely need it – THANK YOU!  <3 :)
P.S.  You might be wondering about Tristan's weight loss as well – he's lost a total of 30 lbs since June 4th!  I'm so so so proud of him!  And yes, he gave me permission to share that number with you all;)  And yes, he is looking SO GOOD.