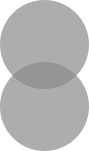 Did you hear Casa Bonita filed for bankruptcy last week?  Their plan is to stay open and the bankruptcy was their last push to try to keep the doors open – but we'll see.  Apparently, of the chain that started in Oklahoma City, the Denver location is the only one left.  If you've never been there – Casa Bonita is a restaurant that boasts not only food, but entertainment in the form of a gift shop, arcade, and cliff diving from the indoor waterfall among other things.  It opened in Denver in 1974 and was a favorite place of my dad's growing up years here.  For my siblings and I, it was also a big part of our childhood because it's one of those places that you take out-of-town guests if they come to visit you in Colorado.  It's a Denver tourist must.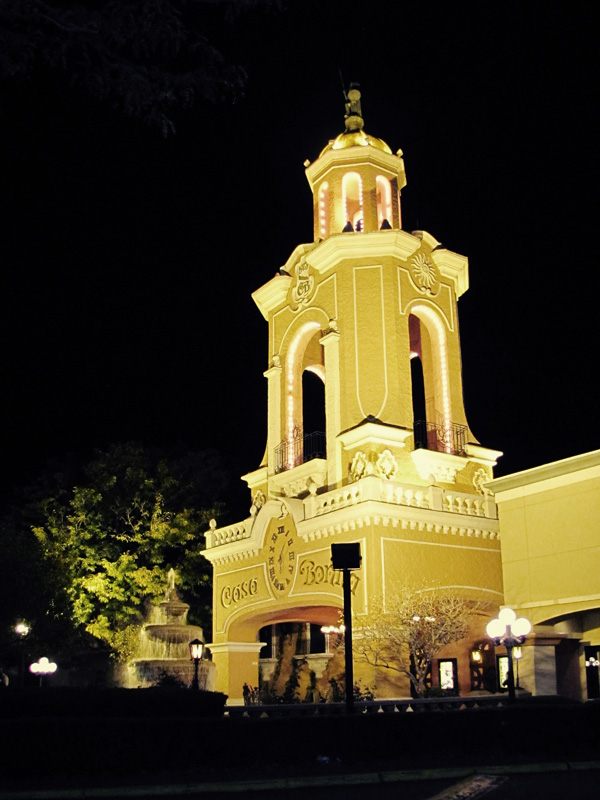 You can't tell from this photo but the building is pink.  And I mean PINK.
Our mom and nephew, Hunter, have birthdays within 2 days of eachother and it had already been decided weeks ago (before the bankruptcy) that we would make the trek down to Denver to celebrate – so that is what we did last night.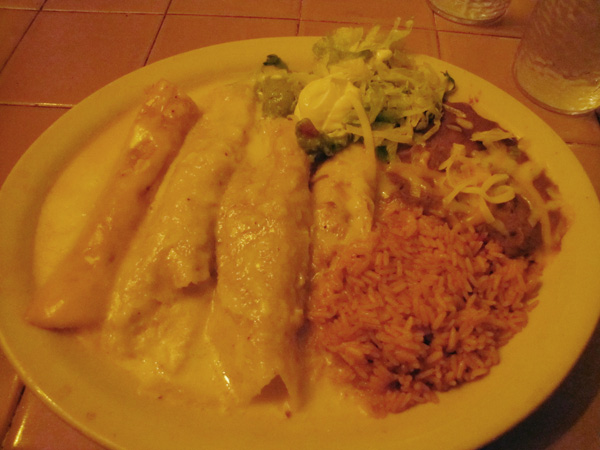 I'm not going to lie – the bad lighting inside is not the only thing that contributed to the odd coloring of the chicken meal.  The food isn't the most amazing I've ever had but it also isn't the worst.  The enchiladas are pretty decent and let's not kid ourselves – we all go for the sopapillas…which are to.die.for.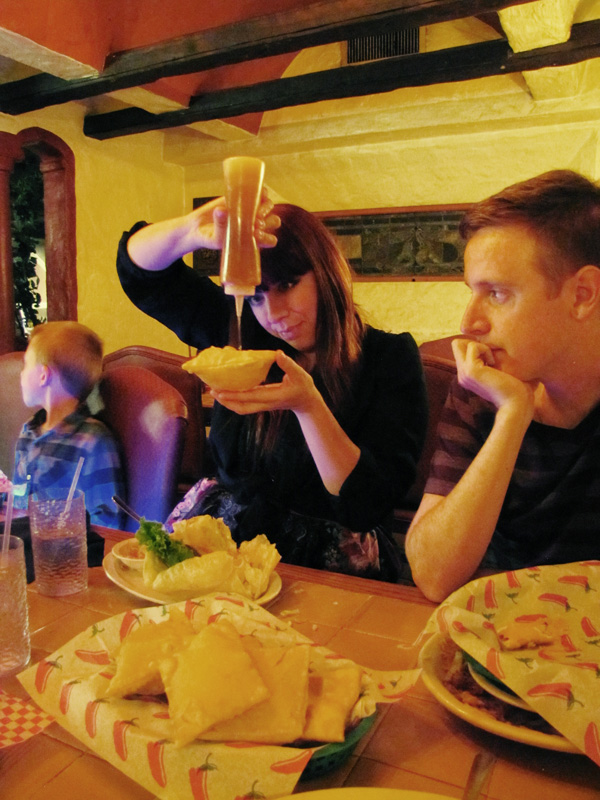 I tried to convince Stephanie May's husband, Tristan, to get a job there just long enough to find out the recipe for the delicious treat, but he didn't bite.  Except into the sopapilla of course. <–Insert pity laugh here.
The joke of the night became to blame everything on "the bankruptcy" (which I think may have just been a marketing ploy to get people to remember the place because it was PACKED).
"Why is that kitchen completely spotless and not being used?"  Because of the bankruptcy.
"Why is the honey solidifying in the bottom of the container?"  Bankruptcy.
"Where is the talking parrot that used to be here?"  Stinkin bankruptcy!

The kids enjoyed the cliff divers and mariachi band singing 'Happy Birthday'.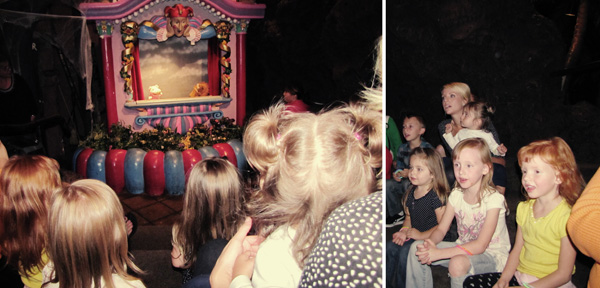 There was even a puppet show which had them all completely focused for 5 minutes before they wanted to take another run through Black Bart's Cave.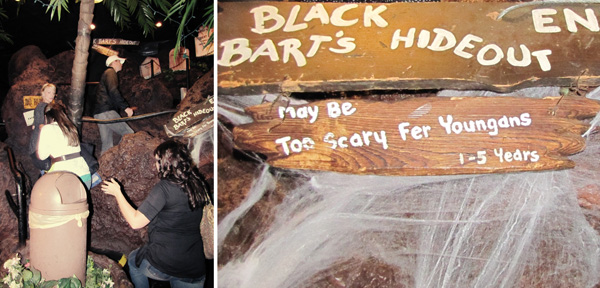 So as not to terrify you, there are no photos of the inside – plus it's too dark, but it's really just because I know it's too frightening.  We weren't sure if the kids would be too creeped out from the dark cave and monster faces to make it all the way through, but: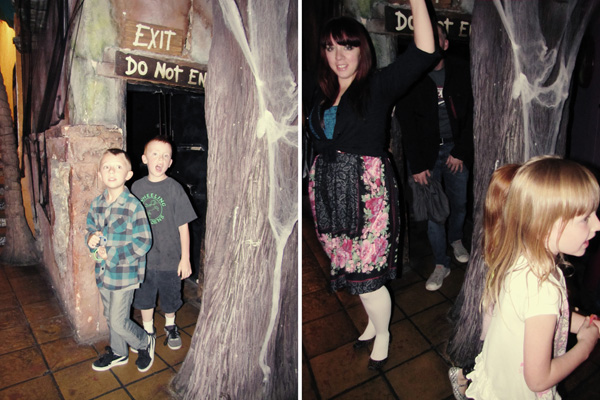 Success!  For the adults as well…which is good because even our 3-year-old niece loved it and went through numerous times.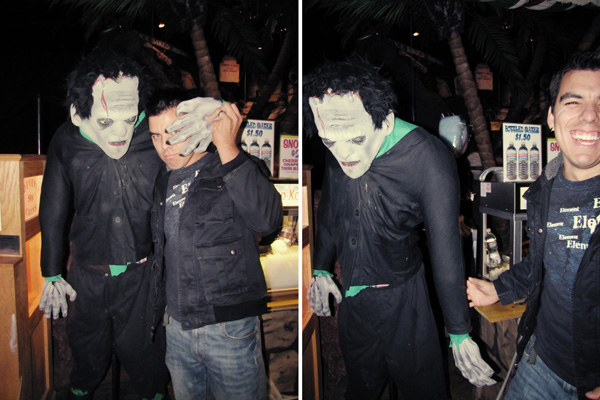 The place was decked out in Halloween decor which was a tad tacky, but our brother, Rocky, is always willing to make it a good time and play with the monsters.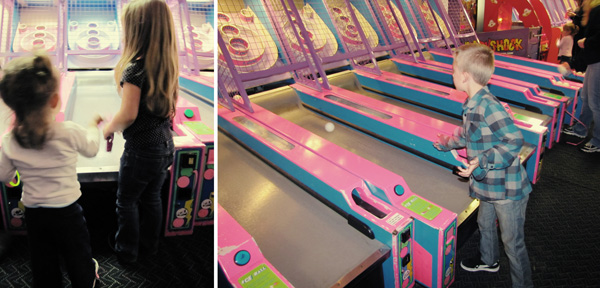 And no trip to Casa Bonita is complete without a few rounds of skee ball.  Love that game.  Hate the sweltering hot arcade room.
It was a great time, and I really hope it doesn't close soon – It's definitely fun to go every couple of years.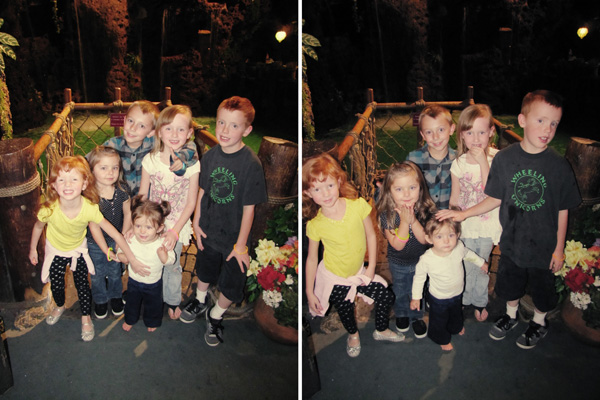 Have you ever been to Casa Bonita?  What is your favorite part?
Hope you're having a lovely Monday – mine is being lame.  It's that Casa Bonita bankruptcy, I tell ya.