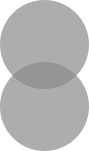 Tomorrow  is the big day.  May* and I are headed off to help out at a big music festival near our home and we are so excited for the day to finally be upon us!  We have been working diligently this week to get things done on the festival grounds – but before the madness began, I made sure I had enough time to make myself something I have been dreaming of using at the festival for months.  Of course I procrastinated a little and only made it last week, but it turned out wonderfully and I couldn't be more happy with it!  Because I will be working all day at the festival, I needed something to carry everything I need in it – phone, aspirin, sun block, chapstick, etc. – without being weighed down by my super wonderful but big, bulky purse.  If you have been reading our blog for even a short time, you probably know that I am completely in love with "non" fanny packs, or "hip bags" so that is what I decided to make.
A few months back when I was looking around on Etsy.com, I stumbled across a seller named Carrot Cake and I FELL IN LOVE with all of her stuff.  I have a big thing for bows in addition to hip bags and she has created something she calls a "Fancy Pack".  It is brilliant.  The sides of the bow are actually pockets so you can be super cute while being efficient with your storage space because you wear it around your waist.
I decided to try my hand at making one and I thought I would share a tutorial in case anyone else wants to try it.  It definitely would have been easier for me to just buy one from Carrot Cake and I'm sure it's finished more professionally but mine will work great for tomorrow and I am so excited to use it!  If you are a little frightened of making one yourself, I would definitely check out her site – she has so many great things!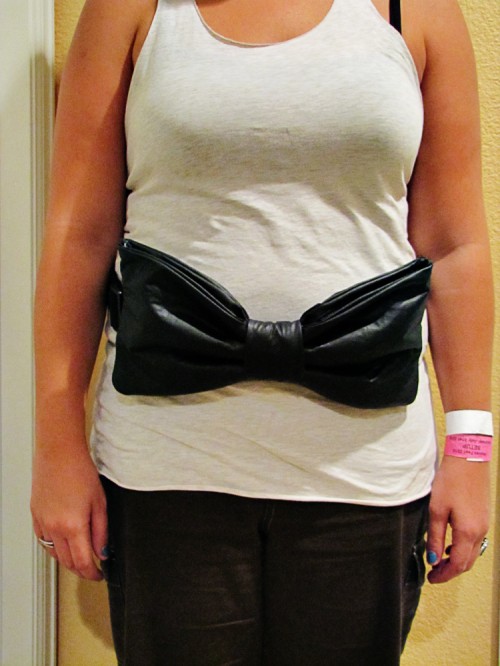 Materials:
1. Vinyl – I bought a yard from Walmart and it's actually more like pleather(you won't use a whole  yard)
2. An old messenger bag with webbing strap
3. Durable thread(I used upholstery thread)
4. Sewing machine and large needle in your machine to go through multiple layers of vinyl
5. Sticky back velcro
6. Scissors, pins, any other sewing supplies

Step 1: Detach the strap from your bag and cut 4 8″x16″ rectangles of your vinyl material

Step 2: Cut a piece of the canvas from your messenger bag small enough to fit inside the vinyl pieces.  Place your vinyl right sides together, pin and sew around 3 sides, leaving one of the smaller sides open(repeat with other 2 pieces of vinyl)

Step 3: I decided to put my canvas inside the "pocket" after I sewed the edge.  Put the canvas in the middle(this will make it more durable and able to hold it's shape better).  Place the two double-sided pieces of vinyl together with one opening on the right and the other opening on the left, pin.

Step 4: Sew 3 sides together leaving one of the longer sides open to create a "pocket"

Step 5: Cut a 4″x6″ piece of vinyl and fold it in half long ways with right sides facing.  Sew the long open side closed and turn right side out.  Fold it in half again with short ends together and sew them closed to create a loop, turn the loop right side out with the seams on the inside.

Step 6: Accordion fold your large vinyl pocket how you want your bow to look and slide the loop on and over to the middle, now you have your bow!

Step 7: Thread your strap through the back of the loop and sew the strap to each edge of the bow(obviously not sewing through the whole pocket but just one side) so that the weight distributes evenly when you put things in it

Step 8: Use your sticky back velcro on the tops of the pockets so your goodies don't fall out while you wear this super cool belt/hip bag around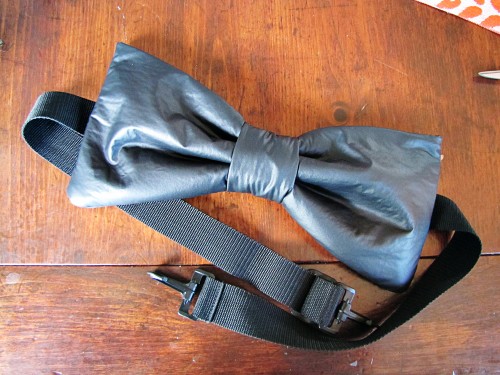 And you're done!  And it even has an adjustable strap  so you can wear it low on your hips or high around your waist.  Who says fanny packs have to be ugly?!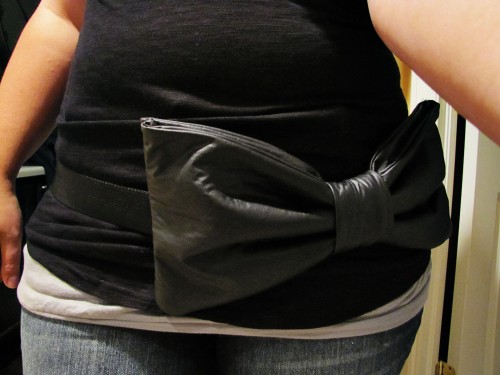 Even if you plan to try this project out yourself, go visit Carrot Cake's shop – she even has suspenders and hair accessories with bows!  I definitely plan to purchase something from her soon!  And if you DO attempt this project, send me some pictures, I would love to see how it turns out and any improvements you might make!