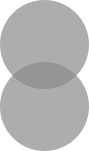 Over the past 10 days I have been sleeping, healing, thinking, sleeping, planning, zoning out, dreaming, sleeping, and waiting.  It's been a roller coaster of thoughts and subconscious, and I'm not exactly sure where I'm at.  But, I got a CUTE new pair of shoes and I have to show you!  How random is this intro?  Speaking of random, me: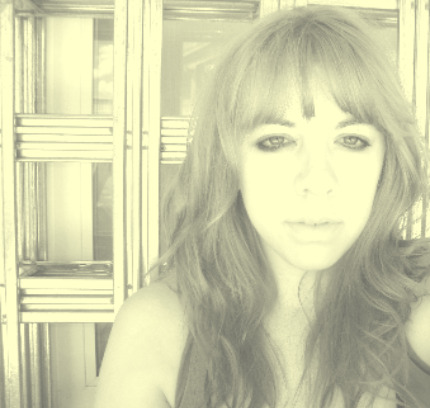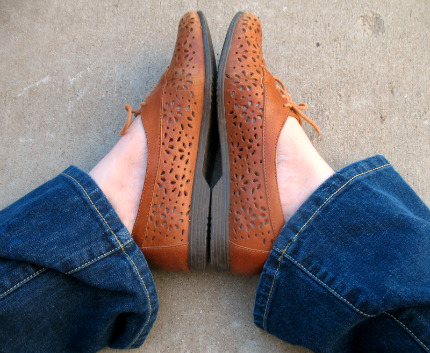 My new shoes!  Aren't they cute?  I found them at a thrift store, and I was so pleased to find that they were my exact size, AND 50% off.  The first day I wore them, I had a complete stranger come up to me, gasp, and ask if I bought them at Anthropologie.  I nonchalantly hid my enthusiasm and told the girl that I bought them from a thrift shop, and that Anthropologie is way too overpriced for me.  This is only partially true because I if I had the money to spend, oh boy would I!  On the other hand, I do think that shopping at thrift stores and paying an 1/8 of the cost is way way way better.  If only thrift stores smelled and looked the way Anthropologie does.  I think MayDae should open our own thrift shop in Denver, but we would make sure to hand wash each and every item that comes in, and make huge and beautiful window displays, and spray good smelling perfume, and have wonderful bright colors everywhere.  Sound good?  Would you want to shop there?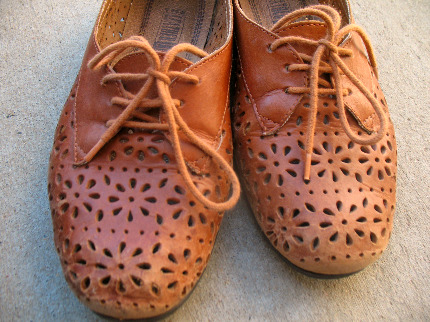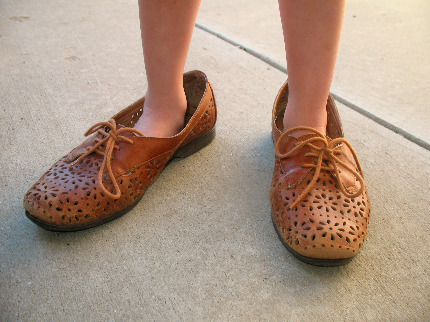 I love this photo!  No, these aren't my legs (if only).  My 3 year old daughter wanted to "model" the shoes for me.  I think she was a bit bored because today was the first day of school for her older brother and sister, and she is now an "only child" from 12:20-3:35 each day.  How sweet she is.  It's funny though, because these shoes are a size 8 in women's, and my 3 year old wears size 8 toddler shoes, and they don't look as huge on her as I would have thought.  In fact, I am thinking that my feet look smaller when I wear these….weird.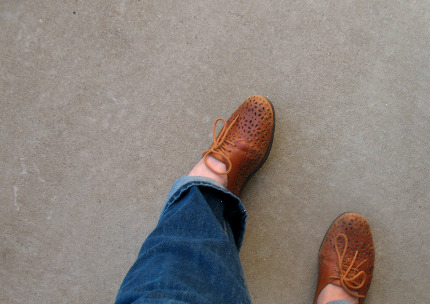 I found an exact matching pair of these lovely vintage oxfords at this shop a few days ago, but not surprisingly, they have sold.  I considered for a slight second that I should sell my pair in our Etsy Shop, but I love them too much.  I've got to keep some things for myself.
What is your current favorite purchase from a thrift store, garage sale, or flea market?  I think you know mine.