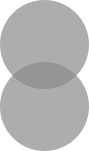 Will all of the procrastinators and last minute gifters please stand up?  *Note – I am standing right now as I type.
I don't know what it is about me…well actually I do, I am phlegmatic-melancholic(look it up if you don't know what that means)…I'm pretty laid back and don't get started on projects or gifts until the absolute last second.  I always say I will start earlier the next year, and I never do.  I try – but I just don't feel an urgency – and this year was no different.
I try to make handmade gifts for my family and friends as often as possible, but it literally wasn't until 2 days ago that I came up with any ideas.  Not one single idea.  I have to admit, it was extremely annoying and frustrating that my project sector(that's in my brain, and yes it is real) was on the fritz.  It was giving me nothing.  Luckily, I now have a plethora of ideas – and we'll see if I end up with enough time to do them.
This random and probably pointless explanation of my personality is just to bring us to this point.  I realize that there are still last minute gifters out there, so I have decided to compile some simple lists of gift ideas – in categories.  I will only be posting a couple today and then more next week – but luckily these are things that you can get anywhere, since it's absolutely too late to order anything online if you want it before Christmas without paying 50 million dollars in shipping fees.  Be aware – for the most part these will most likely just be items that I like – but you can work off of it:)
Gifts for the cook: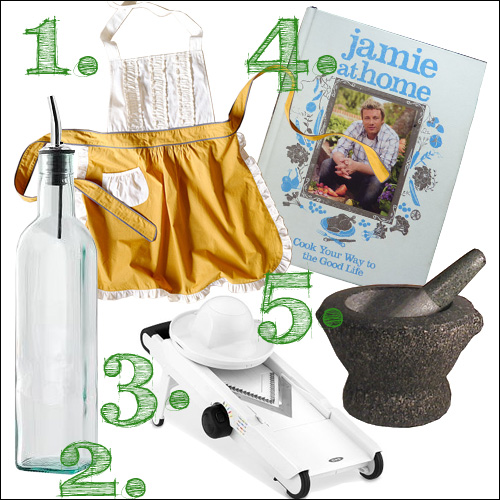 1. An oh-so-darling apron – this one is from Anthropologie
2. Oil dispensers…kinda love.
3. V-blade mandoline.  Williams-Sonoma I heart you.
4. Jamie Oliver cookbooks.  Okay, I suppose any cookbook would do – but seriously, who doesn't love Jamie?
5. GIANT mortar and pestle – this sucker is 25 pounds people.  Eek!
For the bibliophile in your life: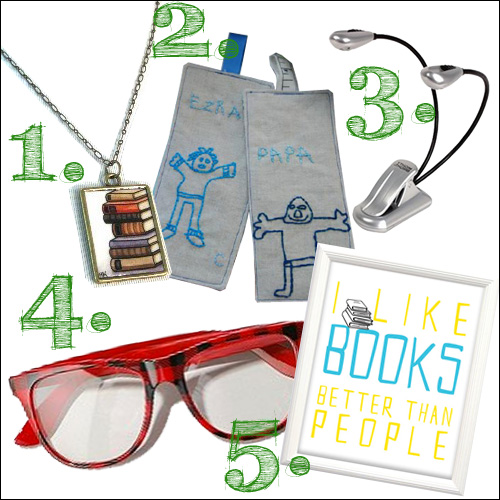 1. Darling book stack necklace
2. Family portrait bookmarks, love.  This one is a DIY – click here for instructions.
3. Reading light…it's a must
4. Reading glasses – psssst…these are only $2.99 at Urban Outfitters right now and I may just buy a pair when I'm finished with this post.  You better hope they have more than one.
5. "I like books…" print.  Unfortunately you can't buy this anywhere – because it's a print I designed for a friend last week.  But maybe if you're real nice, I'll sell you one:)
Possible categories for next week are gifts for: Musician, Artist, DIYer, Fashionista, Techie…do you have a preference?  Or maybe a different category that you need ideas for?  Let me know!
***Also – if you haven't been over to our Etsy shop recently, we have a lot of new stuff…you should check it out here.  Or here.  Or here.  <–Just trying to give you plenty of opportunity.
You can also follow us on Facebook and Twitter – therefore you should.  AND(shameless self promotion, it's our blog – we do what we want) – don't forget to check out our new and updated 'About' section…which is still semi under construction, but answers those burning questions you've always wanted to know about Stephanie May and myself, Stormie Dae.***
Thus endeth the billions of links, but just one more thing…Christmas is now only 15 days away.  Yikes! If that doesn't put a fire under you procrastinators, I don't know what will.