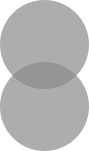 Contrary to popular belief, I do still contribute to this here blog…sometimes.  I don't know what happened this week – I just completely spaced you lovely people, please forgive.  This weekend is absolutely PACKED full of craziness, I'm tired just thinking about it but so excited at the same time.  I get to hang out with lots of wonderful people that I love, and that's always a good thing.
Meanwhile, the hand painted deer dress from our shop was featured in TWO treasuries today – aren't they so pretty??
I sure do love a good Etsy treasury curator.