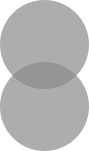 Hi!  Today I have a yummy Buckeyes recipe for you.  I got the original recipe from Smitten Kitchen (she makes all the best food!), but I did make a few changes to it.  I made these last week for my sister's wedding, and I didn't even get to have one because they were gone by the time I got to the dessert bar.  But that's okay because I secretly kept 2 dozen at home for my own dining pleasure:)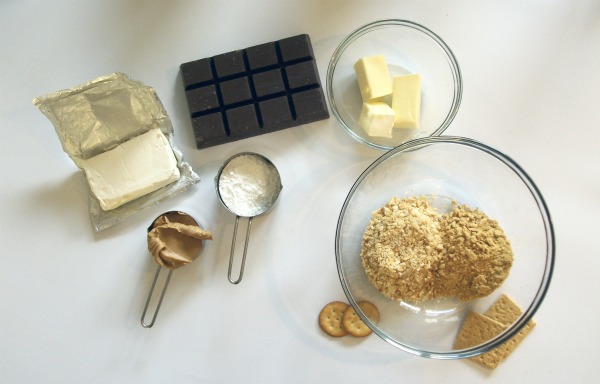 Ingredients:
Cream cheese – 2 oz
Peanut butter – 1 1/2 Cups
Powdered sugar – 3 Cups
Unsalted butter – 10 Tablespoons (melted)
Ritz cracker crumbs – 1/2 Cup
Graham cracker crumbs – 1/2 Cup
Vanilla extract – 1/2 teaspoon
Chocolate Almond bark – 16 oz
Start by beating the cream cheese and peanut butter together (normally I would have used my Kitchenaid stand mixer for this, but Tristan was using it for Thanksgiving bread making – yum!).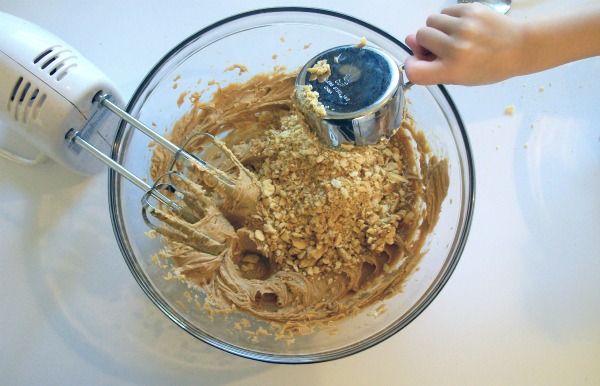 Add the Ritz cracker crumbs and graham cracker crumbs and stir.  *Note:  The original recipe only calls for graham cracker crumbs, but I had a feeling I would love the saltiness that the Ritz brings to these, and I DO!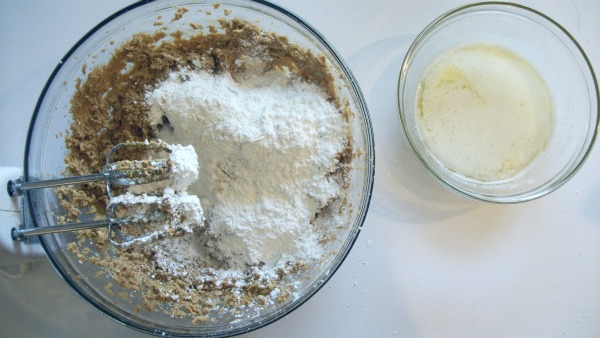 Stir in the powdered sugar gradually and then add the melted butter and vanilla.  Stir till combined.
The filling might be a little bit sticky at this point, so I usually stick the mixture in the freezer for about 10 minutes to make it easier to form (also a good time to start the clean-up process).  Once the filling is firm, form it into small balls and put them on wax paper.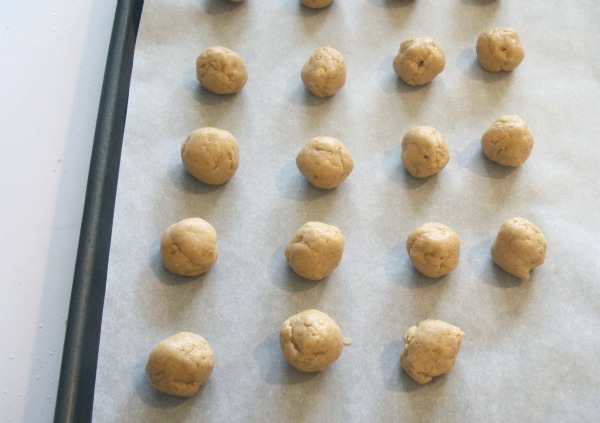 Melt the Almond Bark in the microwave at 30 second intervals until completely melted.  Then wait for 2-3 minutes before dipping.  You can use a fork, or wooden skewer to dip the balls in the chocolate, but I usually find that my fingers work best:)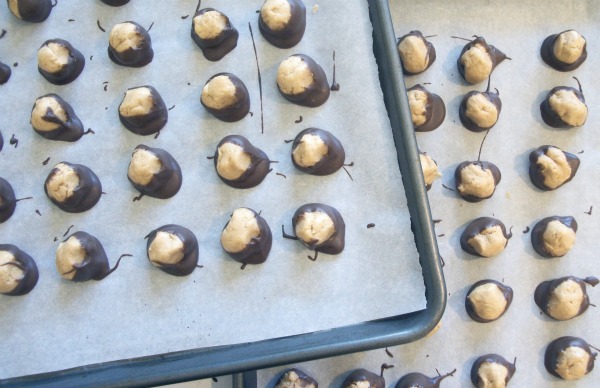 Dip the bottoms and sides of the balls in the chocolate, and leave an opening or "eye" at the top.  Place the balls on the wax paper, and put in the fridge to set.  *Note:  the original recipe calls for dark chocolate, but every time I have used real chocolate, it doesn't set up as nice as the Almond Bark.  It's totally up to you though – whatever you like best!
I think that these are best eaten straight out of the fridge – cold, a little crunchy, and the filling melts in your mouth.  Seriously good!
P.S. – this is a great recipe for kids to help with – Gemma did a great job!