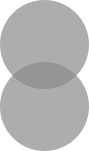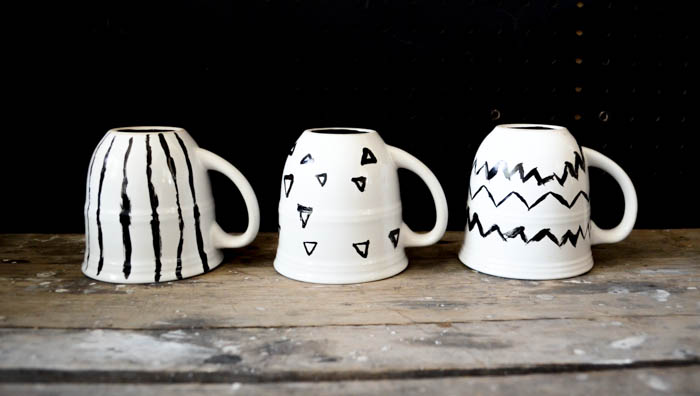 I love when my kids can participate in making handmade gifts for friends or family members.  They are so special compared to regular store-bought gifts, and they usually turn out to be cheaper as well, which is a win-win in my book:)  For my sister Stormie's birthday, we wanted to make her something combining her love of black & white, geometric prints, and coffee, and this project totally incorporates all of those things!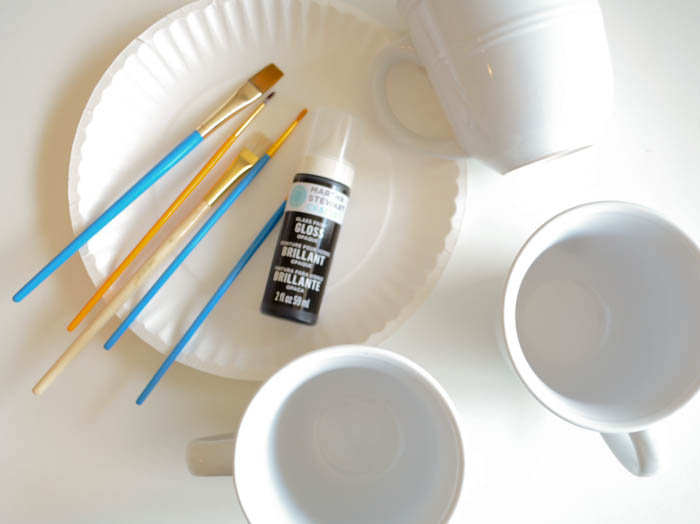 What you'll need:
Martha Stewart Glass Paint  (ours is Black Opaque Gloss from Michael's – $4.99 before coupon)
plain coffee mugs (any color)
paint brushes
paper plates (to put the paint on)
rubbing alcohol
your oven
Let me start by saying, this is such a great project for kids, but at the same time, they will probably need a little help and direction from you – especially if it is a gift for someone else.  I told my kids to make sure that they were keeping Stormie in mind when choosing the design for their mug, and they did!  We looked up some pictures of patterns on the computer, and some of the kids chose to copy a pattern, and others just wanted to make up their own.
The first step is to clean the outside of the mugs with rubbing alcohol.  This ensures that the paint will adhere to the mug properly.  There is a decorating "tip" on the paint, but since 3 kids were using the same bottle, we used small paint brushes instead.  I squeezed a tiny bit of paint onto a paper plate and they dipped their brushes in it and that seemed to work well.  It's also really important to have a small container of rubbing alcohol handy for mistakes.  The alcohol takes the paint right off, and also cleans the brushes when you are finished.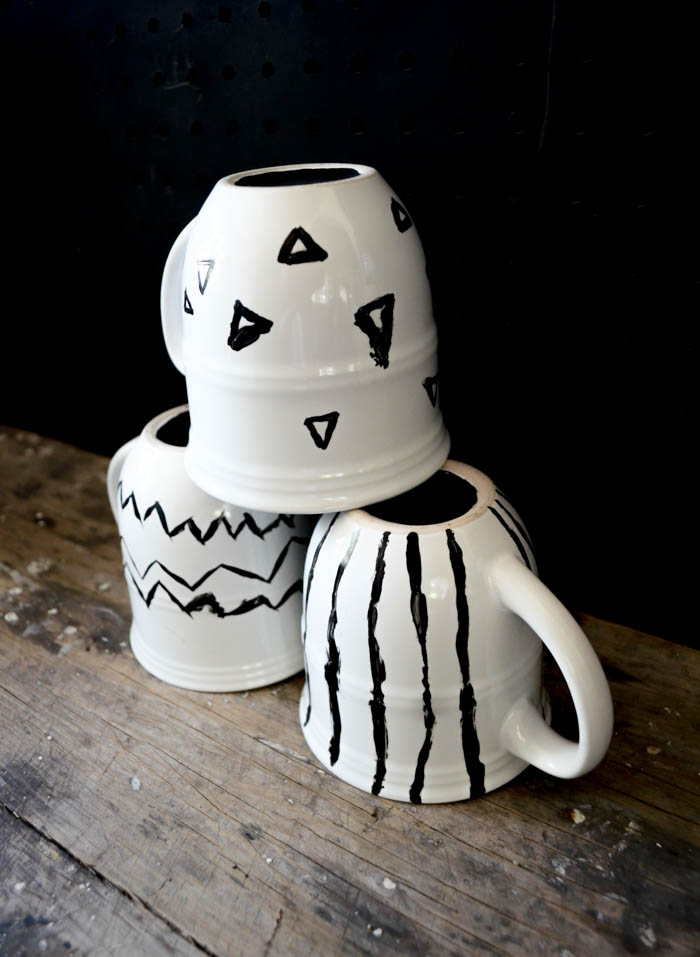 After the kid's designs were done, we made sure the paint was completely dry, then we put the mugs into our cold oven (you want the mugs to heat gradually!).  I set the oven to bake at 350 degrees and set the timer for 30 minutes.  When the time was done, I turned off the oven, but left the mugs in there until they were completely cooled down.  And you'll need to wait at least 72 hours before actually using the mugs.
And that's it!  Easy right?  I definitely want to have my kids do some mugs for me – they turned out so cute!